The Environmental Protection Agency (EPA) and the Department of Transportation (DOT) recently unveiled new window stickers that are going to be present on all vehicles starting in 2013. All future window stickers will feature a Quick Response (QR) code, which can be read by the smartphone of a prospective car buyer. Nissan elected to stay a step of ahead of the new window stickers, and is the first automaker to implement QR codes in its 2012 model year lineup.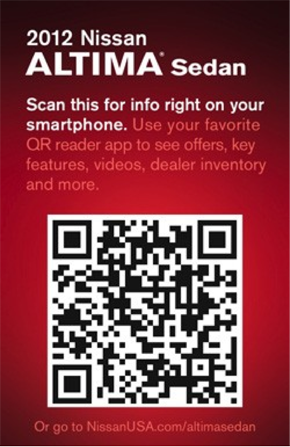 "Nissan's new QR code program puts important decision-making information at shoppers' fingertips while on dealership lots, helping sales personnel make a more effective presentation, as well as providing customers with a 'silent salesperson' if they are shopping the lot after hours," said Jon Brancheau, vice president, Marketing, Nissan North America, Inc. "It's a true mass market effort across all products and all Nissan dealerships nationwide - part of our pledge to bring innovation to every aspect of the vehicle design, buying and ownership experience."
On our
Portland Maine Nissan
lots right now, the 2012 Altima and Sentra display the data-rich boxes that work with the camera on your phone. Once scanned, the QR codes can provide:
Specific vehicle information, including grade walk, key features and available accessories:
Video based product overviews
Image gallery
Incentive offers
Dealer inventory
Request a quote capability
Join mailing list request
Dealer location support
"Initial consumer response, based on early
2012 Altima
QR code availability, has been extremely encouraging, with consumers viewing multiple pages and requesting follow-up information regarding current offers and inventory," said Brancheau. "It's one more way Nissan helps the consumer by delivering content on their terms."
Berlin City Nissan, your local
Maine Nissan
Dealership, is excited at Nissan implementing the latest technology for their customers. Providing extensive details about each Nissan vehicle to the perspective buyer will increase the car buying experience for everyone.