About Us
About Berlin City Nissan of Portland
What's the Easy way? Its a philosophy of doing business that finds a way to satisfy each and every customer. Its a way of making a connection to the community by saying "we're all neighbors and we're here to make life easier."
We are your Portland Nissan Dealer and your premier dealership for a great selection of Maine Used Cars. Berlin City Nissan of Portland has great deals on new Nissan and used Nissan cars and SUVs.
We provide Nissan Sales, Nissan Repair and Nissan Auto Parts to Portland and the surrounding neighborhoods including Portland, South Portland, Saco, Brunswick and Somersworth.
If you would rather discuss your options with our friendly sales staff, click on Directions for interactive driving directions. We are conveniently located at 227 Maine Mall Rd. You can also reach Berlin City Nissan of Portland any time by filling out our contact form or calling us. The entire staff at Berlin City Nissan of Portland looks forward to serving you!
Mon - Fri

9:00 AM - 7:00 PM




Sat

9:00 AM - 6:00 PM




Sun

Closed
Mon - Thu

7:30 AM - 6:00 PM




Fri

7:30 AM - 5:30 PM




Sat

8:00 AM - 4:00 PM




Sun

Closed
Mon - Fri

7:30 AM - 5:00 PM




Sat

8:00 AM - 4:00 PM




Sun

Closed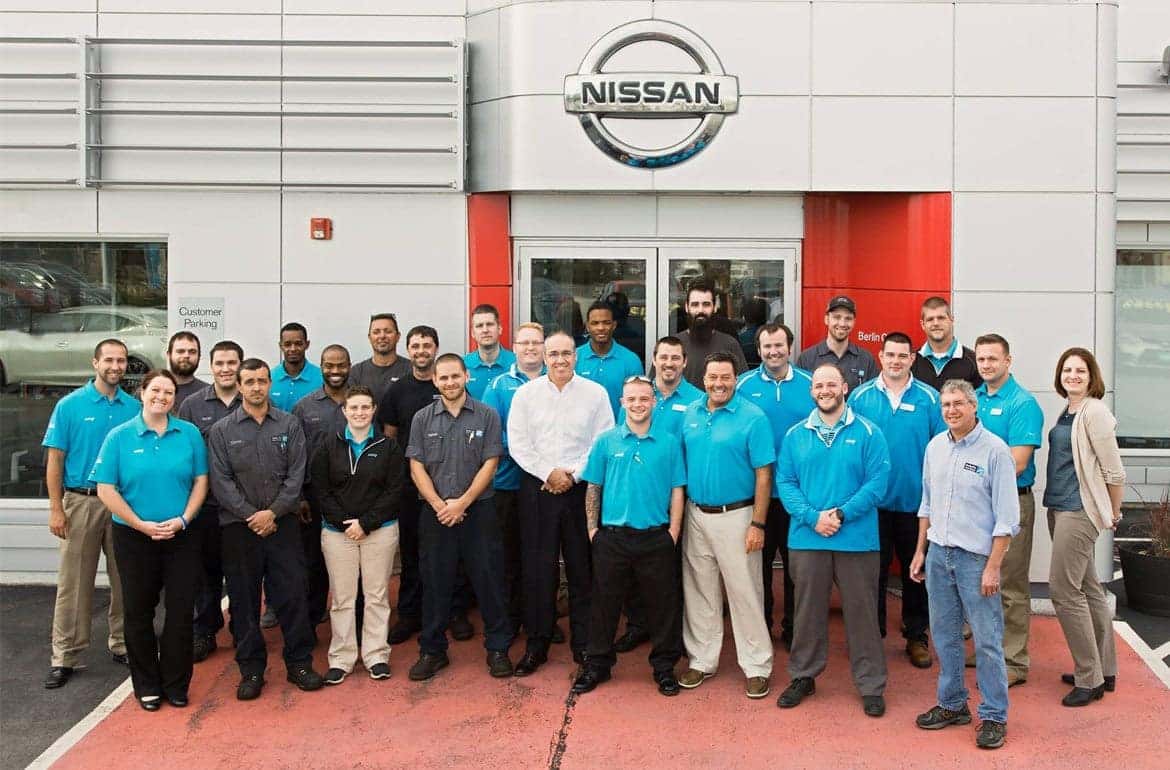 Press and Announcements
Berlin City Auto Group Celebrates 30 Years in New England
(Business Wire – Portland, ME)
"We deliver more than 40 percent of our inventory anywhere in New England. Our motto, 'over the top care' isn't a sales gimmick, it's just the way we do business"
Berlin City Auto Group is celebrating 30 years of business in New England this month. The dealership was founded in 1980 as a single store in New Hampshire and today consists of six dealerships located in Portland, Maine; Gorham, N.H.; and Burlington, Vt.; with 17 franchises including Toyota Scion Lexus, Nissan, Honda, Chevy, GMC, Buick, Ford, Lincoln, Chrysler, Dodge, Jeep and Kia. Berlin City kicks off its 'Big 3-Oh Sale' today, which runs through Labor Day. During the sale, customers will be able to triple their down payment, up to $1,000, to put towards the purchase of a new vehicle. For example, if someone puts down $1,000, Berlin City will match that and add up to $1,000 in manufacturer's bonus cash.
Two Employees Still Here 30 Years Later
"There is so much history and heritage in New England, both in our stores and with our employees," said Yegor Malinovskii, Berlin City's market president. "We have two employees that have been with us since the beginning and 17 employees that have been with us for 20 or more years. Our employees are the backbone of our company and the reason why we've been able to sustain and grow our business over the last 30 years."
Auto Group Grows, Builds New Dealership
Berlin City has experienced steady growth and marked several milestones in its 30-year history. Recently, the company celebrated the expansion of its Toyota Scion Lexus dealership in Portland, Maine, which was completed in late 2009. The expansion included the purchase of two acres of adjacent land, adding more service bays to the existing service center, as well as the addition of 275 spaces for additional vehicles, increasing inventory display space by 20 percent.
In addition, a new Berlin City Honda facility will break ground in October in Portland and is slated for completion in fall 2011. The 27,000-square-foot, state-of-the-art service and sales facility will be three times larger than the existing facility and once complete will add an additional 20 to 30 jobs. Berlin City also plans to remodel its Gorham, N.H. Honda/Nissan/Toyota facility in 2011 to give it a modern and fresh look.
Convenience and Service Drive Success
"We may service small towns in New England, but we offer the conveniences of a big city," continued Malinovskii. "From our four-day/200 miles no questions asked return policy, and our lowest, most competitive price guarantee within four days of purchase, to our door-to-door delivery service, we really try to go above and beyond to make the car buying process easy and convenient for our customers."
Berlin City offers door-to-door delivery throughout New England, which was introduced in 1983 to make car buying even easier for New Englanders. The company employs nearly 75 drivers that make daily deliveries from Maine to New York. Transactions are completed over email and via phone, eliminating the need for a customer to travel far distances to purchase a car. "We deliver more than 40 percent of our inventory anywhere in New England. Our motto, 'over the top care' isn't a sales gimmick, it's just the way we do business," added Malinovskii.
Drive for Education: Supporting the Local Community
New this year, Berlin City plans to roll out a 'Drive for Education' program later this month at all locations. The company will donate a portion of proceeds from every car sale to local schools, at-risk youth and other kid-focused charities, with a goal of raising at least $100,000 annually. Berlin City regularly supports the communities in which it serves, from sponsorships to blood drives to fundraiser car washes.
About Berlin City Auto Group
Berlin City Auto Group consists of six dealerships in New England, located in Gorham, N.H., Burlington, Vt. and Portland, Maine. The company sells Toyota Scion Lexus, Nissan, Honda, Chevy, GMC, Buick, Ford, Lincoln, Chrysler, Dodge, Jeep and Kia. Berlin City offers a four-day/200 miles no questions asked return policy and the lowest, most competitive price guarantee within four days/200 miles, door-to-door delivery service throughout New England and pre-owned protection on certified pre-owned vehicles within 60 days or the first 2,000 miles. For more information or a list of locations, please visit www.berlincity.com. You can also find Berlin City on Facebook and Twitter.
---
Berlin City stays down to earth
((Maine Sunday Telegram – Portland, ME)
A people-driven business philosophy is the foundation of the New England auto group's success.
Berlin City Auto Group has a simple business philosophy: "Over the top care provided by down- to- earth people." So in constantly seeking to ramp up its level of customer service, the company naturally takes a straight­forward approach: Ask people what is important to them. Then, follow through and deliver it.
"We're a people-driven company with a people-driven focus," says Yegor Malinovskii, Berlin City's market president. "I know it's kind of a cliche to talk about" 'going the extra mile,' but our customer is our primary focus, and it shows."
"We've conducted more than 1,000 hours on consumer research to understand on a deeper level what customers really want when buying or servicing a vehicle," Malinovskii continues.
"In practice, that means talking to people not just at our dealerships, but also in the restaurant, or on the street or out shopping, and asking them what do you think would make Berlin City a better company?" Based on some of the answers, the auto group's "clear way" policy was instituted. Basically, that means taking the financial mystery out of the car- buying process.
"People do not want to play games," Malinovskii notes. "They want to know exactly what they are paying for a car, what the discount is, how much they getting for a car they are trading in, how much the amount of a down payment works to their advantage. We disclose interest rates, too."
"It's an approach that is uncommon for the auto industry. But our goal is to make the transaction as transparent as it can possibly be when a customer buys a vehicle. Everything's there in front of you on one piece of paper."
Redefining "service"
Adds Mike McPherson, Director of Customer Relations at Berlin City's Honda and Nissan dealerships near the Maine Mall,"Everyone loves having a new car. But the buying process, historically, has not been something most people enjoy, in part because customer service in the auto industry has too often been, shall we say, archaic. So the "transparent" approach is one way in which Berlin City is trying to raise the bar."
"That was another question we asked people: How would you like to be treated when you go to an auto dealer? Their answers reinforced our belief that people want to be waited on by someone who is enthusiastic, knowledgeable, and happy in what they're doing."
Other customer-driven initiatives at Berlin City include a four-day, money-back guarantee on the dollar difference if you find a better price on your new car somewhere else. (Malinovskii acknowledges that this is little used, thanks to the auto group's highly competitive approach to pricing.) Within the same time period, you can return the car if you decide it isn't right for you.
Indeed, a common thread through out the company's business approach is providing peace of mind for the customer. For example, the 60-day, no-questions-asked, we- fix-it policy for buyers, or "pre- owned protection' for certain vehicles. Another nice feature: Even if you're not buying a car, Berlin City will buy yours.
Perhaps the most unusual Berlin City benefit is its door-to-door delivery service, whose impressive reach was recently highlighted in Automotive News magazine. The dealership in Gorham, N.H., population about 13,000, serves customers in Maine, New York and Vermont as well as instate clients, with 40 percent of sales to "delivery" customers who buy vehicles without setting foot in the showroom.
A high level of trust
"We have lots of car dealers in our area, but none can offer the deals and service of Berlin City," one customer told Automotive News. And the journalist Gordie Little lives in Morrisonville, N.Y., four hours distant from Gorham.
Such robust delivery business points to a couple of things. One is the dealership's having the technological expertise to conduct transactions electronically, until the delivery driver appears on your doorstep to request your signature.
"For customers, the email and Web communication is mostly a convenience factor," says Biff Babineau, Internet sales manager at Berlin City's Toyota-Scion-Lexus dealerships in Portland. "People can do everything except a test-drive and with virtual tours now in the works, we're getting closer to offering that." More important than the technology is the level of trust, without which buying a car unseen could be a nail­biter for the customer.
"That comfort level is possible for our customers because of the relationship we have with them, I hope," says Malinovskii. "And that relationship Berlin City fosters in part through community activity. We support Toys for Tots, the Barbara Bush Children's Hospital, the Maine Cancer Society and at least three dozen others. We're doing a blood drive in January and expanding our charitable endeavors in 2O1O.
"In the new year, each dealership is adopting a particular charity to support causes with a local focus, as in a South Portland charity for our South Portland location."
Community focus
How does Berlin City identify and choose its charitable causes?
"As with the customer-driven service research, ideas are generated through employees," Malinovskii explains. "Some managers are involved, but on the whole, these employees are service technicians and salespeople and so on, who really know what is important to the people in their communities."
"Not a lot of companies empower employees to effectively determine how business should be conducted, but we have a program called "Berlin City Ambassadors" where a group of engaged employees meet to talk about what we can do to be a better company."
"It's a unique model and a direct reflection of our New England identity and values. We are the people who live in the same neighborhoods as our customers, belong to the same churches, go to the same schools, care about the same things.
"We believe that customers can appreciate the way Berlin City is committed to such long term relationships. They are the core of our "down­to-earth" philosophy."